SUAZIO is celebrating its 20th birthday this year, something we're extremely proud of. We shared with our readers how we got here, what we've been doing those past two decades and where our expertise lies. But, of course, we couldn't have gotten where we stand today without our talented colleagues.
That's why we conducted an extensive employee survey, in which we asked about our colleagues' experiences when it comes to working at SUAZIO. We collected and distilled their answers – and are happy to share them in this article. And, for the colleagues who are reading this: a big thank you for cooperating with us, working with us and… staying with us. We couldn't have done it without you!
We talked with a bunch of colleagues…
Because, as you know already by reading our cases, you can't claim something without evidence to back this up. That's why we sent out an anonymous survey to our colleagues around the world – and asked them about their experiences at SUAZIO.
… who are working at different levels…
We talked with twenty of our colleagues – who are active in different functions and domains, like project management, research, analysts and overall management.
… and from different locations.
SUAZIO is proud to have offices around the world: our main office is still located in Antwerp, but you'll also find our logo in Paris, Philadelphia, Milwaukee, Pittsburgh Bangalore and Zagreb. The colleagues that actively participated in this survey, were located in Belgium and the USA.
They all have very different backgrounds…
Because we choose our colleagues based on talent and drive – and not on where they come from or what they have studied. We house graduates in Hospitality management and communications, Journalism, English, Business and Economics and Psychology – but also specialists in Biology and UX design.
… and ended up at Suazio via different ways.
39% of the people we spoke with, heard about SUAZIO before applying for the job – and 73% of them didn't have any previous experience in the medtech sector. 18% of them ended up at SUAZIO through word of mouth and referrals, 50% of them with the help of an interim job and 31% of them chose SUAZIO quite 'random' – because it felt good.
They had a lot of things to say about SUAZIO…
By now, we have a pretty clear picture of the faces behind the SUAZIO team. We know how they got here, their backgrounds and where they're working from. Time to dig deeper – and get some answers about why they're choosing SUAZIO each and every day.
We started by asking some adjectives to describe SUAZIO as a place to work. Words such as 'driven, flexible, professional, stimulating, collaborative and team-oriented' reached our ears – and happily so!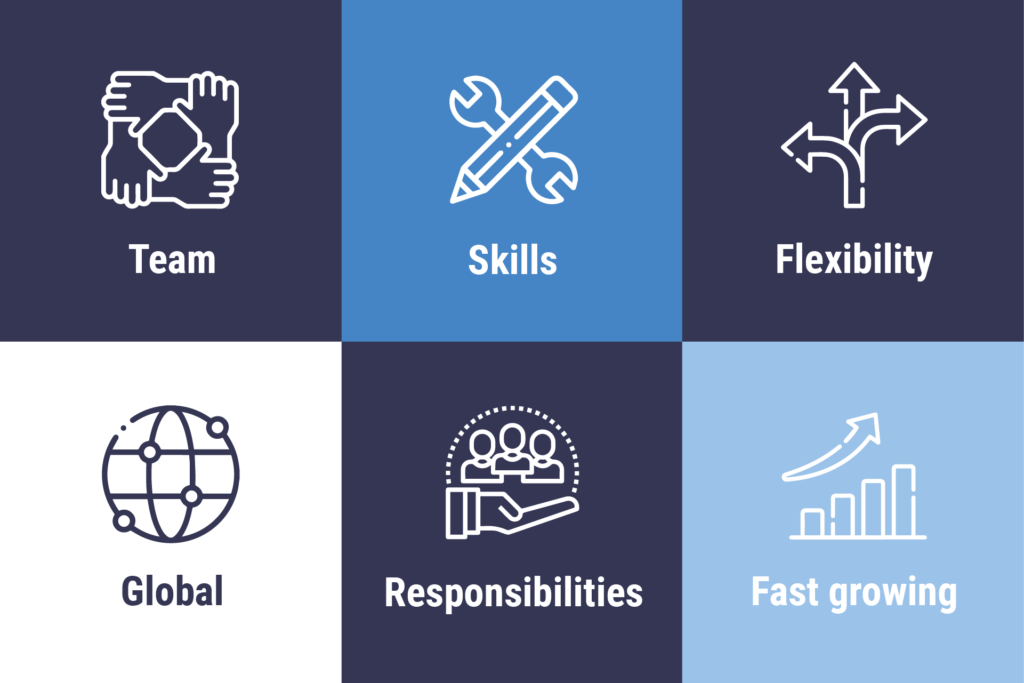 … such as the biggest advantages of working there…
When asked about the main advantages of working at SUAZIO, six answers kept making an appearance – regardless of who was answering. According to our respondents, SUAZIO's biggest advantages are:
the team-oriented approach and

team

in itself;
the opportunity to expand

skills

;
the

flexibility

of work;
the

global

character;
the job

responsibilities

everyone gets;
the opportunity to be a part of a

fast growing

company.
… what they personally thought of as the most enjoyable aspect…
100% of the respondents said that they appreciate the way their work contributes to the overall success of the company. They enjoy the great amount of support they receive from all the departments – and that everyone is always willing to help in order to get the job done.
Next to this, the overall team connection was mentioned quite some times. In their own teams, employees get to explore different ideas and practices to become more efficient, learn to communicate better, grow their accounts – while ensuring they create and keep a fun and friendly environment.
Overall, the average rate of the internal workings received a 7,7/10.
'A top reason why I like working here is because of the people. In recent years, SUAZIO has become more professional as well, but it always keeps feeling "cosy" and like "I feel at home here.'
… and whether they'd recommend working there.
Most of the respondents agreed that SUAZIO's collaborative atmosphere is an opportunity for growing skills and making a personal contribution towards the future.
Although the workload and pressure can be quite high, working at SUAZIO is definitely recommended to friends and family who are looking for excellent professional opportunities for personal growth and development. In numbers, this translates to a majority of the respondents that would call themselves a real SUAZIO ambassador – and that would, without a doubt, recommend their friends or family to apply for a job at SUAZIO
Happy 20th birthday to us – and our colleagues!
Another big thank you needs to go to the entire SUAZIO team: thank you for making a new commitment every day, for lending us your talent and skills – and for making a difference in the world under the SUAZIO name. We'd be nothing without you.
Want to know more about how we work?
Make sure to contact us.