Introduction
Major medical device manufacturers indicated their procedure volumes decreased by -80% during Q1 of 2020. In their Q1 earnings reports, they highlighted the cancellation or rescheduling of mainly elective procedures. These manufacturers commented on the potential short-term uptake of procedures and a restoration to normal volumes in Q3/Q4. However, all forecasts were uncertain, and many variables will come into play. Therefore, SUAZIO Consulting took a closer look and interviewed a sample of health care professionals in the USA and EU to understand current procedure volumes, changes compared to their pre-COVID-19 volumes, and the outlook for 2020.
For this analysis, we interviewed a total of 99 health care professionals in the USA and EU, with an equal split over countries and specialties, ranging from Cardiology, Interventional Radiology, Orthopedics, and Other Surgery. (Figure 1 & 2) The interviews were conducted in May.
Pre-COVID-19
Our sample had an average of 16 weekly procedures performed personally in their practice. For our total sample, it results in 1,587 weekly procedures. From this, 55% were indicated as elective procedures (procedures scheduled at a time to suit the surgeon, hospital, and patient). (Figure 3)
During COVID-19
84% of the respondents pointed out that during the current COVID-19 pandemic their procedure volume have decreased due to cancellation or rescheduling, while 16% remain stable. In general, and across health care professionals, a 41% decrease of procedure volumes was indicated compared to pre-COVID-19 in May. From a specialty perspective, we see steepest drop in Orthopedics, Cardiology and Other Surgeon (46%, 45%, 44%) and to lesser extent in Interventional Cardiology (22%). (Figure 4)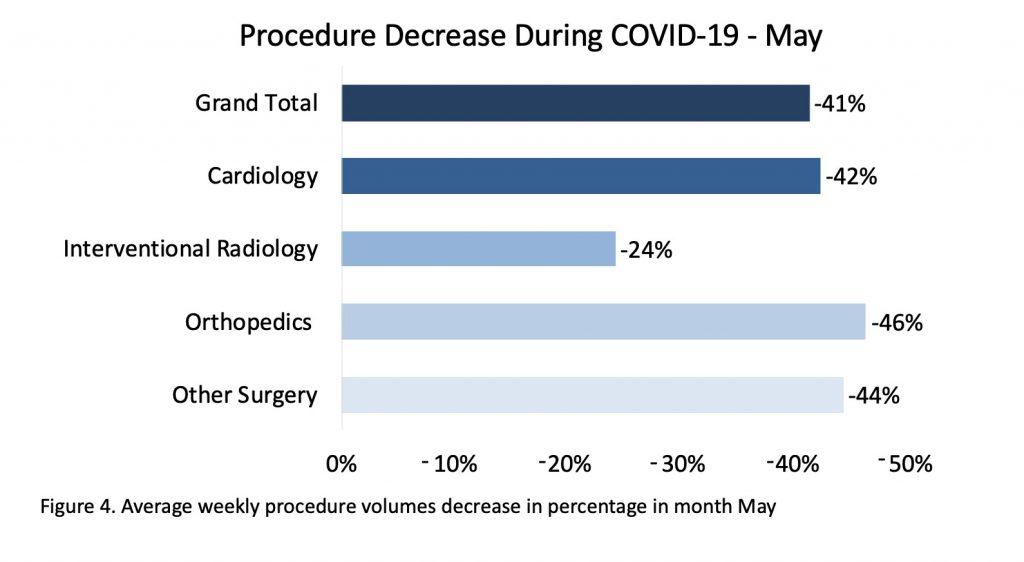 Overall, our participants indicated elective surgeries have been delayed up to 10 weeks on average, with a range from 2 to 52 weeks. (Figure 5)
Outlook for 2020
In total, 67% of the respondents believe the current COVID-19 pandemic will have a lasting impact on their procedure volumes. Additionally, they expect to return to pre-COVID 19 procedure volumes in about 20 weeks. (Figure 5)
When we take a closer look at the next months, we see an interesting pattern where respondents indicate a growth in procedure volumes in the next month. From the -41% in May we see an expected climb to -25% in June. There is a short plateau foreseen in July and August, but this picks up again in September to November with a growth of up to +23% compared to pre-COVID-19 volumes. (Figure 6)
Although trends are similar in countries and specialties, it is especially in France were there is an anticipated procedure growth in Q4, reaching +55% in November. (Figure 7) From a specialty perspective, we see a slightly earlier uptake from Interventional Radiology and Orthopedics. (Figure 8)
The top five main barriers for procedure uptake across countries are Governmental/National regulations, local hospital regulations in handling procedures, limited OR capacity, and patients who seek alternative solutions. (Figure 9)
Conclusion
As anticipated by major medical device manufacturers, our interviewed health care practitioners also indicated that elective surgical procedure volumes are to return to normal states in Q3-2020 and even exceed pre-COVID 19 volumes in Q4. Both governmental as hospital regulations and capacity make it challenging to perform more procedures today; however, as regulations become more relaxed, it looks like health care professionals foresee an opening in procedure capacity.
SUAZIO consulting is an expert in medical devices and diagnostics strategic insights creation. In the next weeks we will present more data on the impact of COVID-19 on different health care markets.
If you are interested to learn more about this data, please contact Jasper van de Sande, Business Consultant at SUAZIO, j.vandesande@suazio.com, +32470927014